HOWTO extract attachments from outlook to external files
My problem
I was bouncing the company inbox size limit and wanted to extract all attachments from the inbox
One solution
This simple tool extracts all attachments between 2 dates from outlook and puts them into files,
OutlookExtractAtts.exe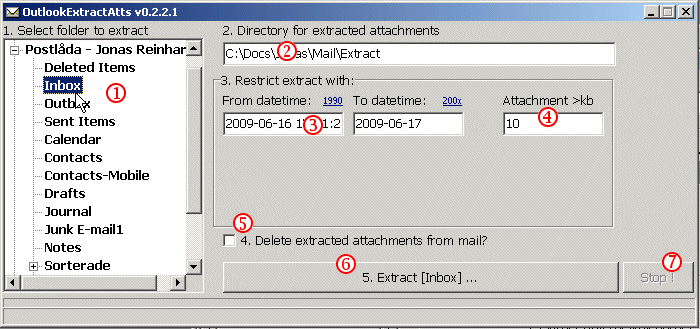 1 select from which outlook-folder to extract from.

2 attachment output directory

3 restrict with date/times

select only emails "From DateTime" to "To DateTime" (local format of datetime)

4 Attachment size

extract only attachments where email total size larger than nn characters

5 If checked the attachments are deleted from outlook and replaced with text [filename] + [filesize]

6 start extracting

7 stop extrating (break)
Extract attachments
Start OutlookExtractAtts on the same machine where Outlook is installed.
[Logon via mapi to Outlook]
Select folder and root directory
Restrict with datetimes and body size
Go
Download and go
get OutlookExtractAtts OutlookExtractAtts.zip, 232 315 bytes

Extract the OutlookExtractAtts.exe into a directory and run...
Versions
2010-aug-31, version 0.3

Update with regexp exclude

2009-jun-16, version 0.2

Initial version
More info/questions:
Subject: OutlookExtractAtts
Keywords
Microsoft, email, epost, Windows, Exchange, OutlookExtractAtts, Outlook2Html, MailToHtml, Mail2Html, OutlookExtract, Outlook, Extract, MailExtract, Attachment, Attachments, Extractor, Free, Fast, Download, archive, embedded, files, 2003, 2007, inbox, size, limit, arkivera, bilagor, bilaga, epost, e-post,