XL Link
Hyperlink excel tables HOWTO hyperlink a column in a spreadsheet to a webpage
Background
I often need to link a column in a spread sheet to a webpage. The problem is that this is a very boring task if the spreadsheet have many rows.
One solution XLlink.exe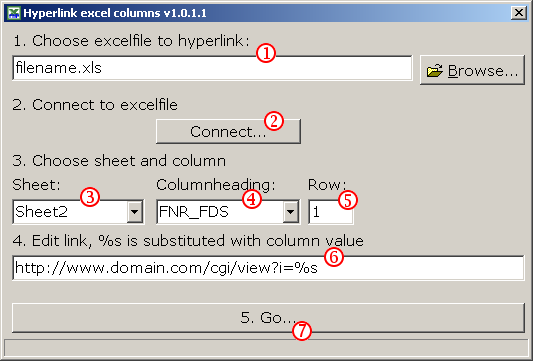 1 Excel filename

Enter/browse the excelfile you want to link

2 Connect to excel file

After pressing this button xllink can access the excel file

3 Choose sheet

Which sheet should we use

4 Column

Choose column to hyperlink.

5 Header row

If the column header row is not 1, (perhaps 2 or 3), you may need to reconnect

6 Enter link

%s is replaced with content of cell

7 Go

The linking is taking place inside excel ..

Save ..

Don't forget to save the sheet
Download and go
get xllink xllink.zip

Extract the XLlink.exe (1 file) place it whereever and run ..
More info
More info/questions from:
Subject: XLLink
Keywords: excel,hyperlink,hyperlänk,xls,xl,xllink,link,href,url,windows,office,reinhardt,jonas