GolfStat Golf Statistics Program, Windows-version
An updated online version is available at golfhelg.net
---
What is Golf Statistics ?
A software to keep track of all your scores as well as your tournaments and competitions.
The result is static web pages which you can share with your friends
An example of what you can produce with GolfStat is published at the Classic Golf Tour site..
Main concept of GolfStat
I define an Event as an 18-hole event and a Tour as a combination of Events. When you defined your Events you can easy produce a web-site for your Golf Statistics.
The interface is as simple as possible with a couple of dialogs to enter the information divided in:
Players: Enter the players which will be entered statistics for.
Courses: Enter the courses you play.
Events: Define your events.
Tours: Define your Tours.
Rounds: Enter the score cards here. It's fast and simple.
Download and try it out
Get your own
copy
to try out. With the program there is some Demo-Data files which should produce Web-Pages close to the look of the
Tema Men Open V
site.
Best of luck with your tournaments..
The main screen where you choose what to enter

This shows the dialog where you enter the scores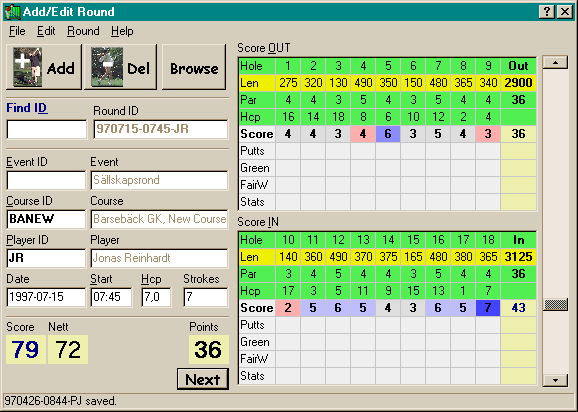 The program is smart enough to support a round entered at the keyboard as: 435463546+Tab+536524635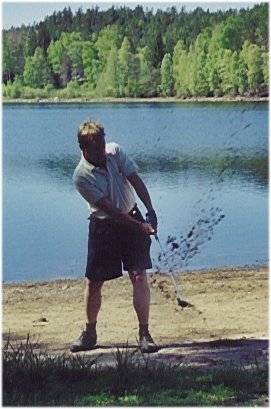 "on the beach .."
Howto download (old)
The archive is in ZIP-format. You can either run the exe file or "unzipp" it.
Howto install GolfStat (old)
To install GolfStat/32 you need a computer with Windows 95/98/NT/2000. There is no muscular need for diskspace or MHz. If you can browse this page with the computer you will be able to run GolfStat.
Install by Self extractor
Just click the
golfstat172.exe
file.
Install by "WinZip"
Follow this simple procedure:

Create a program directory. eg. C:\GolfStat\
You can put the GolfStat "root" where ever you like.
Unzip the archive, GolfStat.zip to this directory.

Create a shortcut to C:\GolfStat\Prog\GolfStat.exe
Run. First time GolfStat asks you to load the Demo. Use this to learn about the program.
The program will create some other directories parallell to the "Prog" dir if not exist.
The "Data"-dir will store the "database", text-file based.
The "Web-Docs"-dir will store the html-files.
Some Sites by GolfStat (old)
Golf Statistics in directories (old)
Register (old)
Thanks for your interest!
When registering you will get a license file,
GOLFSTAT.LIC
, to copy into your program directory. This holds information about your ownership of a license to use GolfStat. After you get your license file you send us a copy of the email on paper together with:
a Eurocheque
cash This might not be the most modern or safest way to transfer money but it is simple and fast
travellers checks
an International money order
in the amount of US$ 40.- (or bank note exchange rate) All details will be emailed to you.
To register GolfStat you fill in the form below and click the Send button.
As a registered user, you will receive:
A license file, (GolfStat.lic) entitling you to use all future releases (which will be made available for downloading from our Internet web site).
The license file will be e-mailed to you, if you quote your e-mail address with your order.
The display of your name and license number in the About dialog box.
Automatic display of your name (option) in the footer of all web-pages.
Technical support by e-mail / www at no charge for at least 101 days.
(No NAG dialogs :-)
Copyright Notice
The content of this site, including but not limited to the text and images herein and their arrangements, unless otherwise noted, are Copyright © Jonas Reinhardt. All Rights Reserved. All trademarks referred to are the property of their respective owners.
Nothing contained herein shall be construed as conferring by implication, estoppel
*
or otherwise any license or right under any copyright, patent, trademark or other proprietary rights of Jonas Reinhardt or any third party.
Links on this site may lead to servers maintained by individuals or organizations other than Jonas Reinhardt. Jonas Reinhardt makes no representation or warranty regarding the accuracy, timeliness, suitability or any other aspect of the information located on such servers and neither monitors nor endorses such servers or content.
This site and its content are made available only to provide information about Golf Statistics. GolfStat maintains this site in Gothenburg, Sweden, and makes no representation that this site or any content on or accessed through the site are appropriate or available for use in other jurisdictions. You are responsible for compliance with all applicable laws and regulations.
*
Estoppel:
The doctrine designed to protect a party from the detriment which would flow from that party's change of position if the assumption or expectation that led to it were to be rendered groundless by another.
---
An updated online version is available at golfhelg.net

Keywords: Golf,Golfer,Statistics,Statistik,Golfclub,Golfklubb, Hole Statistic,Course Statistics,Course,zGolfzStatz,Longest Drive, Greens in Regulation,Number of Chip-ins,Player Statistics,Player, Mulligan,Straight,Slice,Hook,Grass,Rough,Drop,Pin,Pin-High, Software,Program,System,Shareware,Freeware, Tour,Event,Competition,League,Champioship,Tournament,Open,Team, Scorekeeper,Scorecard,Rounds,Teeoff,Teetime,Tee, Albatross,Eagle,Birdie,Par,Bogey,Doublebogey, Wedge,Driver,Putter,Irons,Iron5,Iron-5,Iron9,Iron-9, Bunker,Waterhazard,Drop,Penalty,Sidewater,Hole,Flagpole Page,Create,Produce,Webpage