GolfSt Golf Statistics Program, DOS-version
The complete Tour statistics program.
---
To have a look at the program I will show you some pictures:

The courses you play has to be recorded into the program ones in a database. You record the pars, hcps, lengths and course ratings, sss and so on: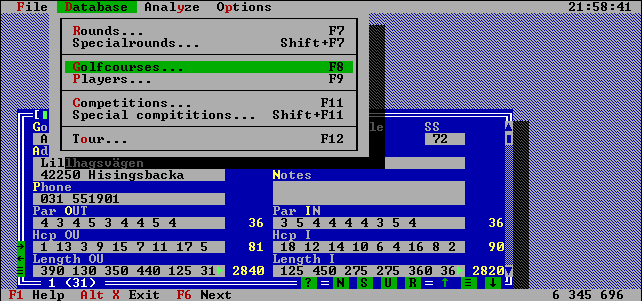 ---
You and your friends have to be registered in the database. (Phonelists for calling after a partner can of course be obtained)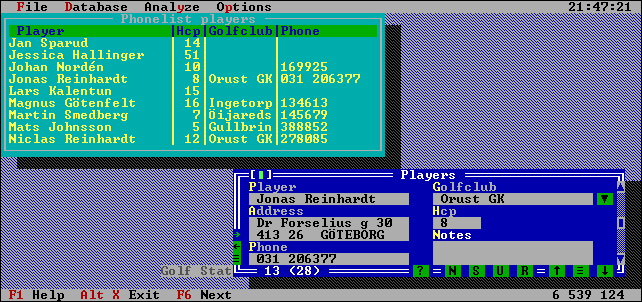 ---
Now you can start to record your rounds of Golf into the program. You record:
Date is essential to keep track of your round.
Select course. (from course database)
Which competition. (from the competition database)
Your exact handicap. (from the course rating your strokes is calculated, you can of course put in your strokes manually)
You entered the score as: 546435434 (it expands...)
If you counted: Putts, Green hits and Fairway hits on Par 4's and 5's. (This adds up to nice statistics...)
Some notes... (Greenfee, Mates, ...)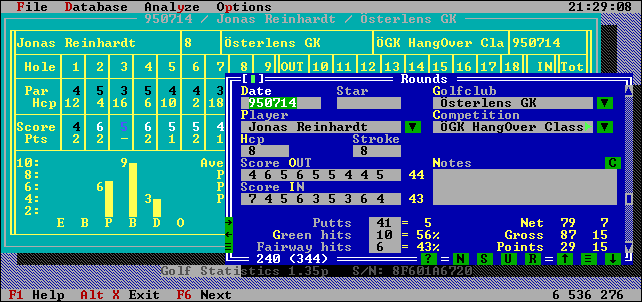 ---
You decide to calculate a competition with the program. You define a competition. As I defined it, a competition is a 1 round event. A competition with many rounds is as I defined it a Tour. This competition can (after you played and filled in the rounds) be summed and the results can be presented.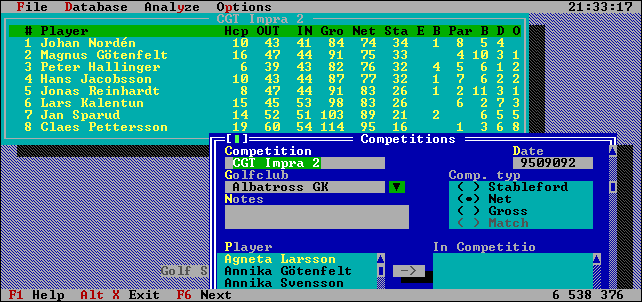 ---
You want to play a >1 round event with your mates. This was the origin of the program, to keep track of a Tour event with your friends. Check out the
Classic Golf Tour
statistics on the Web. Define your tour as a collection of competitions. Decide how to sum the total points. As we did it with a place-points function Pts(p) for example. Click and see the result...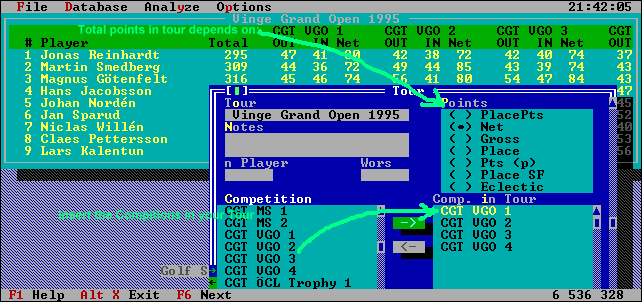 ---
Have fun...
---
Download
Press on the link below to download a GOLFST14.ZIP (274213 bytes)
Install by:
Create a directory, (MD C:\GOLFST)
Copy all the files to this directory, (PKUNZIP GOLFST14)
Start GOLFST.EXE from DOS
From a Windows window
Edit the GOLFST.PIF to point to your directory (C:\GOLFST)
There is a iconfile GOLFST.ICO to use
Start the GOLFST.PIF from Windows
Set Video 43/50 lines in GOLFST
---